Whether you are buying and/or selling a home or just have serious house pride, I bet you have heard the term Curb Appeal. There are a lot of factors that go into having "good curb appeal" like landscaping, roof, driveway, but the area I want to focus on today is your front entry.
A home's front door is your first impression. Think of the last time you went to someone's house for the first time. How did their entrance make you feel? Did you feel welcomed or was it a little uninviting? Here are some simple ways to make your entrance a memorable one.
#1 – START WITH THE NUMBERS
Every house has numbers, so why not find a cool way to show them? The font, style, size, finish, and layout of house numbers can speak volumes about who lives inside. Are your numbers big and bold or small and subdued? Find numbers that fit your personality and that work well with the integrity of your home. Plus, your guests will be grateful that your home can be easily spotted by it's number.
#2 – SOFTEN THE HARD STUFF
The exterior of your home is obviously made up of hard finishes and mostly straight lines – even inside. Add some interest by softening the lines and finishes by bringing in some potted plants or flowers. This simple addition will also bring different textures and colors to your entrance. There's no better time to do this than in the spring. It adds automatic curb appeal to any home.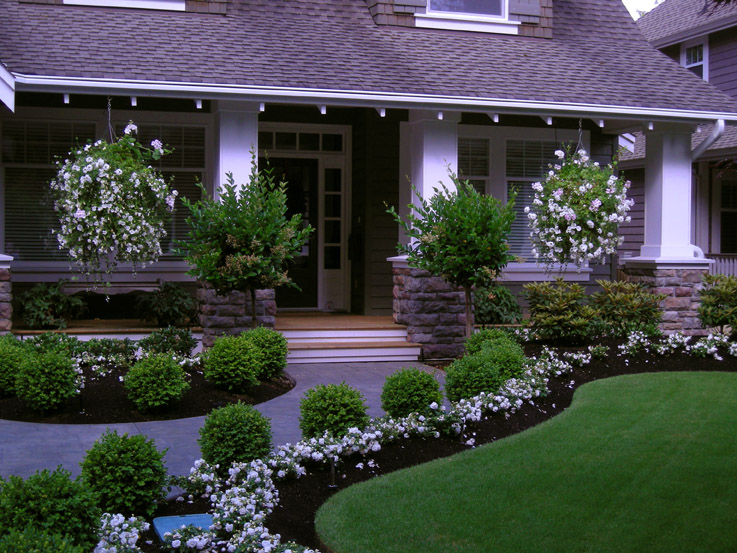 #3 – ADD SOME JEWELRY
Most women will say that an outfit is not complete without jewelry. It's a way to express yourself and add different layers. The same goes for your front door, too. Give it an over scaled door knocker or a beautiful kick plate (which will also protect your door). Just make sure your door handle is pretty awesome. After all, the hardware is what you're actually going to be using the most, so it's worth your while to invest in something you love.
If you're still trying to figure out what you need to do to your homes entrance, look at the homes around you for inspiration. One of our favorite and most impactful tricks to improve curb appeal is updating the front door, here are few key factors when designing your entry space.
Entry doors must be tough enough to withstand wind, rain, scorching sun, and would-be intruders, yet beautiful enough to make a good first impression. Unfortunately, meeting those needs is a tall order for many front doors. Most older ones are made of wood or wood veneer, both of which warp, crack, and delaminate after years of exposure to the elements. Metal doors don't last forever, either--the surface on some older steel doors can peel.
Whether that describes your front door or you just want to trade a solid door for one with glass panels that offer more light, you'll find plenty of options available. There are new wood doors that resist the elements better than earlier versions, as well as metal and fiberglass ones that look like wood but provide greater security and often cost less.
MATERIAL MATTERS
Perhaps the most important decision is what your door is made of. Most combine several materials; for example, many fiberglass and steel doors have wood frames. But it's the surface material that most affects appearance, durability, security, and price.
Wood Doors
Wood doors are the most common. Versatility and beauty are their strong suit. Natural-finish stock and custom wood doors come in oak, cherry, walnut, mahogany, maple, fir, and pine. You'll also find paint-grade doors in several softwood varieties, such as pine and western hemlock.
Many stock wood doors are a sandwich of wood-veneer skins over an engineered-wood core. This configuration minimizes the expansion and contraction that cause warping. They are a low-cost alternative to solid-wood doors. Look for tough, furniture-grade veneers at least 1/16 inch thick; anything thinner damages too easily.
When shopping for prefinished wood doors, look for durable stains and clear finishes, such as polyurethane. High-gloss sheens offer the best protection for painted doors. Whichever finish you choose, apply it to the top and bottom edges. This helps prevent a wood door from absorbing moisture and swelling.
Also look for careful detailing. As a rule, the more intricate the carvings and moldings, and the thicker and wider the stiles and rails, the better the door. The same goes for panel thickness.
Steel Doors
A steel door is your best bet if security and durability are top priorities. Steel units are stronger than wood or fiberglass doors, and they won't crack or warp. Any dents or dings on these doors can be pulled and puttied with an auto-body repair kit. Steel doors generally cost the least, however a steel door system with sidelights and premium hardware can cost as much as a wood door system.
All steel doors have an inner frame made of wood or, for greater strength, steel. The cavities within the frame are filled with high-density foam insulation. Premium doors typically have a 24-gauge skin and a steel frame, though some offer heavier-gauge steel (represented by a lower number). The surface usually is smooth or has an embossed wood-grain pattern.
Most steel doors are coated with a baked-on polyester finish that requires periodic repainting. Premium versions get a vinyl coating similar to the one on vinyl-clad windows for greater weather resistance. Some even have a stainable wood-fiber coating or, on really high-end versions, a laminated-wood veneer.
Finally, check the warranty. Some manufacturers will void it if you install an aluminum storm door with the steel door. The reason: Heat buildup between the doors might cause the finish to peel.
Fiberglass-Composite Doors
Fiberglass-composite doors are tough and maintenance-free, and are a smart choice for harsh or humid climates. They mimic the look of wood with wood-grain texturing and can be stained to match oak, cherry, walnut, and a variety of other woods.
Fiberglass-composite doors carry long warranties. For example, some brands backs its models for as long as you own the house. But because installation affects longevity, these lengthy warranties usually come only on complete entry systems that include the frame.
Affordability is another plus. Expect to pay about the same price as a steel door without glazing or hardware. But because accessories cost the same regardless of the material, a fully loaded fiberglass entry system can cost about $$$.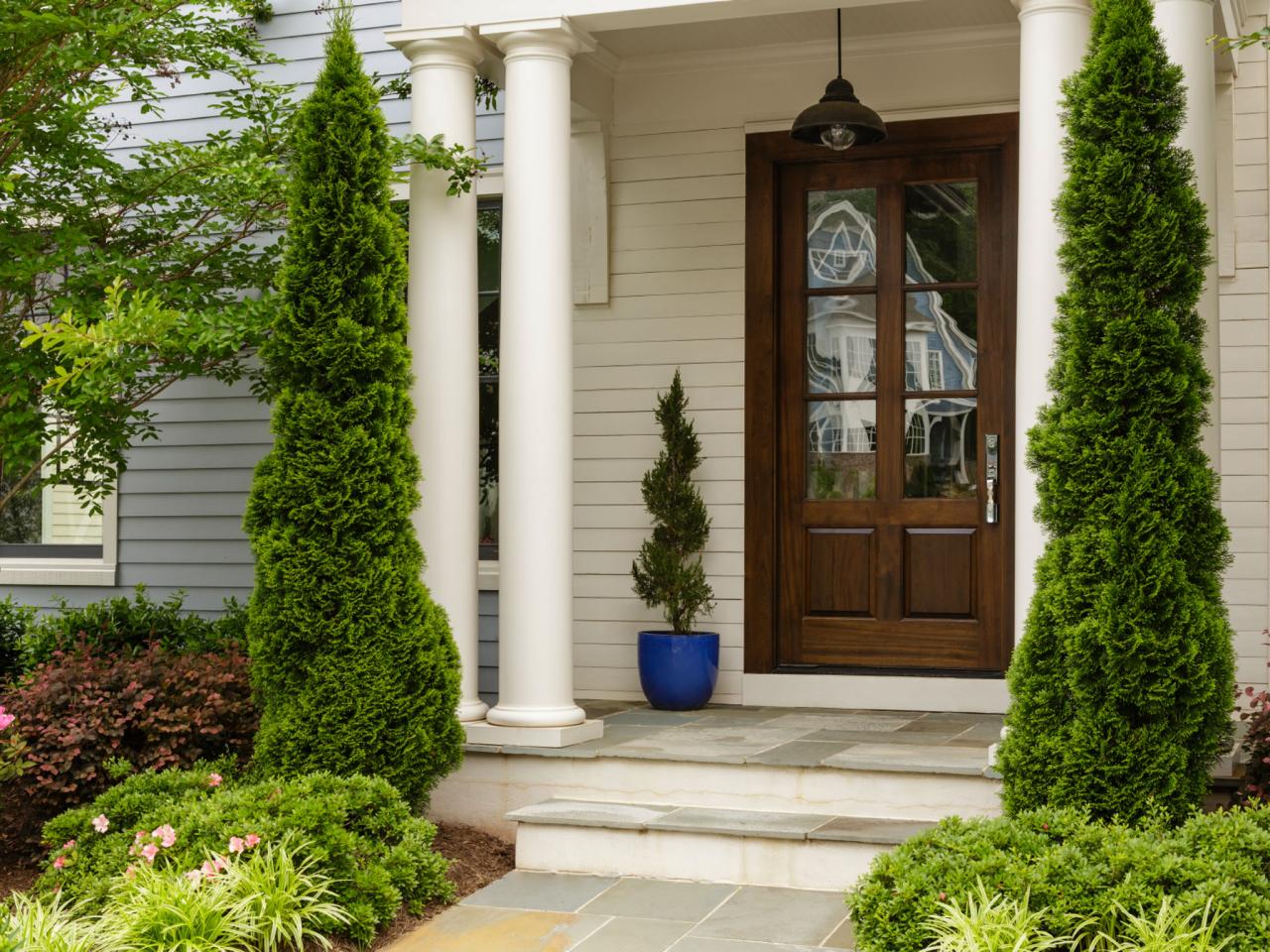 Aluminum Doors
Aluminum doors, like steel units, use an insulation core covered by a metal skin. Unlike other door systems, however, aluminum versions are sold exclusively through dealers. Each is custom-built to your opening.
Manufacturers offer all types of options. The doors in the Armaclad line from Hess Manufacturing, for example, come in dozens of styles and colors, with smooth or wood-grain finishes.
Aluminum doors have a baked-on enamel finish, so they never need painting and won't rust — which explains the 20-year warranties that are common. You can also match the color and style of your door with an aluminum storm door. All these benefits don't come cheap, however. At prices that start at about $600, aluminum doors are the most expensive choice after solid wood.
BUYING SMART
Whether you buy the door by itself or the entire door-and-frame system, keep these shopping tips in mind:
For complete entry systems, be sure all components come from the same manufacturer. (Many systems are assembled by distributors with parts that might not mate perfectly.) Check that the weatherstripping seals properly and that the threshold interlocks with the bottom edge of the door.
Look for low-e glazing on window units. For added security, some manufacturers offer glazing designed to resist break-ins. Decorative windows with real lead or brass cost more than ones with the fake stuff.
High-quality steel and fiberglass doors have a thermal break — often a vinyl strip or part of the wood frame — that separates the inside and outside door skins. This prevents outside cold and heat from being conducted through the skin and frame, and frost from forming on the inside surface.
Picking the right front door will pay off in smoother operation, less maintenance, and added energy savings. You'll also have an elegant entry that makes a great first impression for years to come.